Naughty or Nice: Spring Break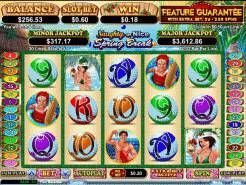 Current Jackpot
$5,519.66
Play Now
If you thought the original Naught or Nice slot game was a spicy experience you'll really love Naughty or Nice: Spring Break. The sequel brings back the same attractive characters, but it puts them into bikinis and gives you a whole new set of special features to try for. There's a lot of cash to be won in this slot game, and even when you're not winning you'll be having a lot of fun with this slot.
Wagering
Naughty or Nice: Spring Break comes with a total of 30 paylines and they are active at all times. You can wager between $0.01 and $5.00 per line, which means that you can wager between $0.30 and $150.00 per spin depending on what you are comfortable with. Make sure you choose an amount that you can pay for over time, and that will help you unlock a win that you'll be excited about. With the feature guarantee active while playing the highest wager possible actually goes up to $200.00 per spin, but not everyone makes use of this added feature.
Wilds
Both the naughty and nice girl symbols serve as wilds in this online slot game. Either of the two symbols show up frequently so you'll often have wilds helping you complete different prize payouts. They don't offer any sort of multiplier though, so you'll just be using them to win more frequently.
Free Spins
Getting three or more of the scatter symbols is all it takes to trigger the bonus round of this online slot game. Once you do that it's up to you to choose if you want to go with the Naughty Girl or the Nice Girl. The Naughty Girl will give you 10 free spins with triple prize payouts for any win that includes the Naughty Girl. The Nice Girl feature gives you 12 free spins with double prizes for any win including the Nice Girl. These special free spin rounds change out additional symbols for wilds, giving you more chances to win. If you get three or more scatters you'll receive 5 more spins.
Feature Guarantee
This slot comes with a feature guarantee feature that makes sure that you win a special feature once every 250 spins. The guarantee triggers between 26 and 250 spins, so you'll never quite know when it's going to trigger. The longer you play the slot the better the chance is that the guarantee is going to trigger, which will help you feel more and more confident about your chances as you play. You have the option of turning this feature on or off, but when it's on you'll risk an additional 10 coins for every spin on top of the initial 30 coins.
Random Jackpots
This slot has a few random progressive jackpots that can be triggered at the end of any turn. Lucky gamblers can unlock these jackpots while also winning other prize payouts from the slot. They trigger every now and then and there's no symbol combination required to get them going.

Overall Naughty or Nice: Spring Break builds on what made the original slot enjoyable to play and gives gamblers even more to look forward to. Whether you just want to look at beautiful women, or you want a shot at some top paying prizes, this slot is worth playing.