Cash Bandits Slots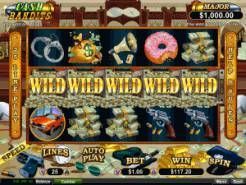 Current Jackpot
$3,783.46
Play Now
There are few slots out there with a name as well known as Cash Bandits , and that's for good reason. This colorful slot game starts out with an excellent theme and builds on it with good graphics, fun features and a lot of prize options. Read on to learn more about what this fun slot has in store for its players, and maybe you'll want to become one of the thieves trying to get away with as much loot as possible.
It Starts with the Bet
Cash Bandit starts off with a bet, and it's up to you to lay down an amount that you're comfortable with. There are 25 paylines in this video slot, and you can choose to bet on as few as one of them or as many as all of them. After you decide on the payline total that you'll be wagering on, you can move on to choosing an overall coin value. When you do this you have a range of values to pick from, starting at a low of $.01 and going up to a high of $5.00. That means the betting range for Cash Bandits is $.01 up to $125.00 per spin. That's a huge range and it's something that you can easily work with as a gambler.
The Vault Bonus Round
So you've gone from petty crime to the big leagues and it's up to you to swipe some serious cash from the Vault bonus round. This special round of the game is triggered by getting three or more of the scatter symbols. Once you do that, you're in the vault and it's up to you to make the right choices to unlock as many free spins as possible. Doing well during the vault bonus round can result in up to 50 free spins and a nice multiplier on each prize won during those rounds as well.
A Huge Jackpot
Cash Bandit has a fixed top award that's impressively large. It's possible to win as much as 30,000x your coin amount if you unlock the largest jackpot. That means you could walk away with as much as $150,000 if you're betting the maximum coin value and you win the top jackpot. That's an amount that's bound to excite any serious gambler, and even with lower bet amounts there's a lot of money to be won from this slot game.
Random Jackpots
Another beloved feature of Cash Bandits is the random jackpots that pop up as you play the game. There is a Major jackpot worth at least $1,000 and there's a minor worth a minimum of $250. These jackpots randomly trigger after spins on the reels. They don't care about the amount of coins or money bet, and can really help improve results on a round with the slot.

Cash Bandits is a well-known online slot game with a lot of features to its name. It pays out a considerable amount of money to top prize winners, but there are plenty of small and mid-sized jackpots to be won from the game as well. It has a nice theme, it's good fun to play through and it's a good solid video slot game for new or existing gamblers to try out.