Ronin Slots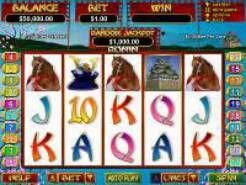 Current Jackpot
$1,857.70
Play Now
Samurai warriors that continue living and fighting after their masters die are known as Ronin and were once looked down on. Ronin the slot game is designed after these famous warriors and adds in a blend of exciting symbols that all relate to Samurai warriors in some way. The game looks nice on the surface, but it's all the features lurking down below that are really worth exploring. Take some time to get to know this slot game to decide if it's the right sort of game for you or not.
Betting Limits
Ronin gives serious gamblers a lot of different betting options to pick and choose from. With a minimum bet amount of just $0.20 low stakes gamblers should feel comfortable playing Ronin. With a maximum bet of $100.00 high stakes players should be able to risk an amount of cash that they feel is worthwhile. Either way, there are plenty of gambling options to pick and choose from with this slot game, making it worthwhile.
Huge Winning Opportunity
Thjere's a lot of cash on the line while playing Ronin as long as you are willing to bet big. That's because there's a top prize payout of up to 10,000 coins during the standard rounds of this slot game. With a maximum coin value of $5.00, it's possible to win as much as $50,000 during the standard rounds of this slot game. That's a lot of cash for anyone to win, but you need to be willing to risk big to qualify for this cash prize payout.
Special Bonus Features
There are three different special bonus features in Ronin the online slot game, and each is triggered in the same way. To unlock these features you need one of the Koku symbols at the center, and two Ronin symbols around the reels. Do this and you'll unlock the Re-spin feature, or one of the two free games features.

During the re-spin feature the Koku symbol takes up the entire center reel and the reels will reset between 3 and 10 times giving you plenty of opportunities to unlock high paying prize payouts. With the free spin games you can get 5 free spins with a growing multiplier that climbs up to 5x, or you can get 25 free spins with a 3x multiplier the entire time. Obviously the 25 free spin game is the most desirable, but each of these bonus rounds are more than worthwhile to play through.

Ronin looks cool, it packs a punch in terms of prize payouts, and it has more than enough bonus features to keep any player going for a long time. Give it a try if you like the looks of the game, you're sure to find something about this slot that appeals to you.