Jackpot Cleopatra's Gold Deluxe Slots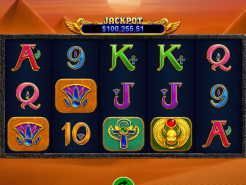 Current Jackpot
$173,189.33
Play Now
There are so many Egyptian-themed slot games available today that we weren't excited when we first noticed Jackpot Cleopatra's Gold Deluxe from Real Time Gaming. This slot looks pretty similar to all the others available today, but when we noticed the huge progressive jackpot prize, we knew we had to give it a shot. We spent a few hours reviewing this game, and during that time, we noticed some good aspects and some bad things too. Learn why we recommend the slot to some gamblers and find out why others should skip this game in favor of other options by reading through our review.
Offered at Real Time Gaming Casinos
This slot is a Real Time Gaming offering, which means that it's one of the hundreds of other games from the same development company. Real Time Gaming is a high-quality development company, and it's one of our favorites, but it isn't the best available today. If enjoy a large game selection and you don't mind playing games from only one studio, you will like RTG casinos. If you want access to games from many different companies, you would be better off playing a BetSoft or Microgaming or NetEnt casino instead.
Win the Huge Progressive Jackpot
This progressive jackpot slot game has huge prize payouts that you can win, making it pretty exciting to play. To get a huge win while playing the game, you need to get five wild symbols on a single payline. This isn't easy to do, and you only have 25 paylines to work with, but it does happen occasionally. If you're fortunate enough to accomplish this task, you'll walk away with more than $100,000 in cash from the game, and that amount only grows larger and larger as you play for a win.
Demo the Slot Free First
The first thing that we recommend many gamblers do when getting familiar with this slot is to play the game for free in Demo mode. The game loads just like normal if you choose to demo it; the only difference is that you'll get a $1,000 demo balance to play with. If you win any prizes while playing this game, you won't get any real payouts as you play. This removes some of the joy of playing online.
A Generic Egyptian Theme
There's nothing exciting about the theme of this game. It looks like most other Egyptian slots, and we might even say that the slot is duller than some other Egyptian games. If you want an exciting-looking game, this isn't the one. If you don't care about the appearance of the games you play, you might still enjoy this slot. It doesn't look bad in any way; it's just a bit boring in our opinions.
Get up to 7,500 Coins on the Pay Table
The paytable for this game lists all sorts of prizes, but the most valuable available is worth 7,500 coins. That's a good fixed jackpot, and it's enough to boost your play experience substantially, but it's not the largest fixed prize, and there are certainly bigger prizes available when playing other games. The best wins will come from the progressive jackpot, and you'll need to get very lucky to win that.
25 Fixed Paylines
This game has 25 paylines that are fixed to the on position. When you play this, you can't turn on or off lines, and you must wager 25 coins each time you spin. That means that the coin values are locked at $0.04 per coin, which is a smaller wager compared to other games that you can play today.
Wager $1.00 Every Time
There are no wager options to choose from at all when playing this game. Every spin must be $1.00. That means that you must be okay with this bet amount when you play the game. If you're fine with spending $1.00 per spin, then this game is worth playing. If that amount isn't right, then the game likely isn't a good fit for you. This is one of the main reasons other gamblers decide not to play this game, and it's one of our biggest criticisms for the game.
Adjust the Speed and Use the Basic Autoplay Feature
There are different settings for the speed of the game, and there's an autoplay feature available on this slot. If you want to adjust the speed reels turn while playing, you can press the lightning bolt symbol to swap between average and fast speeds. To make the game operate by itself, you press the autoplay button and choose the number of spins you want to go through. Once you select your autoplay settings, the game will spin on its own, and you can relax and watch it go.
Unlock 3x Free Spins
The best feature offered on this slot is undoubtedly the free spin bonus round. This round gives players 15 spins with a 3x multiplier on every single win. This is where the biggest prize wins are achieved, and it's what you'll be hoping for each time you spin the reels. Getting this bonus results in some exciting prizes most of the time, and it's one of our favorite aspects of this game. If you play this slot, you should play until you unlock the free spin bonus round at least once.
Toggle Free and Real Play Modes Fast
We love that this game comes loaded with free play and real play modes and that it's so simple to switch between the two play modes. To change from one type to the other, you close the game and open it again in your web browser. Most gamblers can go through these steps in a minute or less. While opening the game, you can choose to play for Real or to Demo the game. Choose the option that you want to use and play for free or wager with your casino balance to try and win a real cash prize.
Win Huge with the Progressive Jackpot
This game has decent prizes for gamblers that win the standard payouts, but the real bonus is the progressive jackpot. With more than $100,000 up for grabs, this is the payout that every player is hoping for each time they complete a spin. The progressive jackpot prize is hard to trigger, but gamblers have won it in the past, and you could be lucky enough to walk away with a huge prize payout too.
Not a Great Value
We don't like that this slot only pays out 95% of the money it takes from gamblers in the form of prize payouts. This isn't a great value, and there are other slots that are far more generous than this one. You can easily find a slot that pays out 96% of the money it takes in, and some games pay out 97% or 98% of the money taken in. With that said, this game isn't horrible either, and you can still enjoy it as long as you aren't looking for the best value game available.
Made for Mobile
This slot is meant for mobile gameplay just as much as it's meant for play on a computer screen. If you want to take this game with you wherever you go, you can easily do that with an Android or iOS device. The game works in a browser doesn't require an app download to play. This is good news for gamblers that like their freedom, and it's a real perk in our opinions.
Rating the Game Honestly
We spent an extended time playing this slot, and we grew to like some aspects of the game and to hate others. We don't like the fixed wager value, nor do we enjoy the mostly small prize payouts that this slot offers. We love the progressive jackpot and the high-value free spin bonus round. We rate this slot a 3.7 out of 5.0 for the reasons listed above. If you want to play to achieve massive victories and that doesn't mind patiently spinning without getting many wins, you can have fun playing Jackpot Cleopatra's Gold Deluxe. This slot doesn't pay regularly, though, and you must be willing to bet $1.00 per spin to play.