Incan Goddess Slot Game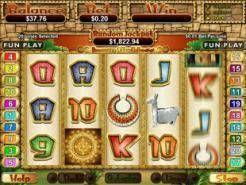 Current Jackpot
$1,005.42
Play Now
Incan Goddess is a slot game themed after the Incan civilization. It shows off ancient symbols, pottery, temples, jewelry and of course a symbol for the sun. The game itself is simple and easy to play and there isn't a difficult bonus game like some slots have. With that said, there are enough special features to make this game interesting and worth playing, and I'll go over exactly what those are below.
Getting Set Up
If you're rushing to get started with this ancient themed slot game, you'll have to take a few minutes to fully adjust your bet amount. You have two decision to make when getting this slot all set. First you have to pick the coin value for the game. You can decide between $.01 and $5.00 for your coin value. Then you have to pick how many pay lines you're going to bet coins on from 1 to 20 in all. That means you have an effective working bet range of $.01 and $100 on Incan Goddess so take your time and pick the best possible bet level for you. It's important to note that generally betting on more pay lines means triggering more prizes and qualifying for larger payouts.
Double Your Wins with the Wild
Generally this slot game offers pretty standard features, but there's a special trick to doubling any wins that you might get while playing Incan Goddess. To do this you need to involve some of the wild Goddess symbols in your prize wins. Each time the Goddess symbol is involved with a prize in some way, that effective prize is doubled so you'll be rewarded twice as handsomely.
The Double or Nothing Bonus
Incan Goddess has a special Double or Nothing bonus game that's triggered by getting a five of a kind with any of the symbols. As soon as you get five of the same symbol you'll have two choices to pick from. Select the right one and your winnings are instantly doubled, choose the wrong one and you'll receive the original prize amount so you win either way!
Huge Prize Potential
Incan Goddess isn't exciting for it's bonus games, though the Double or Nothing bonus does make getting a five-of-a-kind more exciting. It's exciting because of the high potential jackpot that it pays out. Players can unlock up to 50,000 coins in a single spin by leveraging the Double or Nothing bonus on the highest payout. There's also a progressive jackpot that you could randomly win for an even more profitable game play session with this unique little slot. Most players decide there is a lot to like about Incan Goddess. It has all the common scatter and wild features, and incorporates a generous jackpot, a random progressive and the cool Double or Nothing feature to keep the game memorable.