Aztec's Millions Slots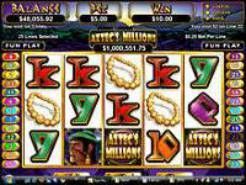 Current Jackpot
$1,323,693.20
Play Now
Aztec's Millions is a well-known online slot game that thousands of players continue to play each and every day today. That's because this slot game offers the chance to win over $1 million on a single spin with enough luck. Not just that, but there are some pretty powerful features available in this slot game as well. There's a lot to like about the slot, which is why so many people are willing to play Aztec's Millions again and again.
Pretty Standard Looking Symbols
Even though Aztec's Millions is well-known for offering some of the best features of an online slot game, it's pretty bland looking compared to other slots out there. That's because many of the symbols of this slot are ordinary looking. Sure you have the custom Idol symbol, the Egyptian woman, and the other original symbols, but with most spins you'll see a whole lot of bland card symbols on the reels taking away from the beauty of this slot a bit.
A Set Wager Amount
Aztec's Millions requires that every player wagers $5.00 per spin. This might be too much money for many players that want to try the game out, but it ensures that you get access to all the best features of the slot, and there is a lot of money available to win from this slot game. If you can afford to pay the required wager amount you could win huge for it, but low-stake players will likely have to look for a different option if they want to have enough spins available to make the slot game worth playing.
Winning Millions
Just as the name suggests, it's possible to win over $1 million from a single spin on Aztec's Millions. The trick to doing this is getting the right symbol combination to unlock the enormous progressive jackpot payout. This payout is triggered by getting five of the Aztec's Millions symbols on the same payline. Do that and you could be looking at $1,000,000 or more from the slot and it will all be credited to your casino account.
Powerful Scatters
The idol symbols are scatters on Aztec's Millions and they help trigger some of the best features of this slot. Get three or more of them and you'll unlock a nice instant payout as well as a series of free games. You can get between 15 and 25 free games depending on how many scatters you get to trigger the round. During the free games any wins you get are tripled other than the bonus payout and the progressive jackpot. Any scatter symbols that you get during the free games will award you with an amount equal to your wager.

If you're looking for a high paying slot game, Aztec's Millions is the one to try out. It offers a good range of features and makes it worthwhile to gamble online, but only if you have enough cash to keep playing again and again until you trigger some of the best features of the slot game.