Enchanted Garden Slots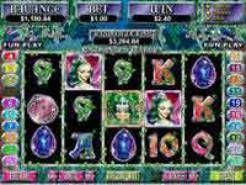 Current Jackpot
$1,945.31
Play Now
Hop into a beautiful world of fantasy with fairies, charming lush forests, beautiful plants and more that all come together to create a very nice looking slot game called Enchanted Garden. This slot is themed after little fairies out in your garden, and it carries with it a variety of surprises that you may not expect. We decided to try the slot out to see if it had enough features for us to recommend the game to others, and we were impressed by what we saw.
Fairy Bets
Before you can start trying to bring in cash from the fairies, it's time to begin placing wagers and hoping for the best. You have a lot of options when it comes to betting, so choose with care and make sure you aren't risking more than you can handle. The minimum bet is just $0.01 and you can place that on a single payline if you like. The maximum bet is $5.00 and you can put that over 20 paylines for a total of $100 risked per spin. That's the range that you have to work within, so it's pretty easy to find a bet level that should be comfortable to play with.
The Fairy Princess
The Fairy Princess symbol is a multiplier wild in this slot that is always worth watching out for. It shows on all but the first reel of this slot, and will double any prize that it's part of. This symbol won't serve as a scatter, but will take the place of all the other symbols that you would normally go for while playing Enchanted Garden.
Random Paying Jackpot
Like many of the best online slot games offered today, there is a random jackpot in Enchanted Garden slots. You just need a bit of luck to unlock this top payout that could be thousands of dollars. Spin the reels and hope that you'll trigger this random jackpot with one of your spins.
Free Spin Fun
Get a Fairy Princess on the last reel and a Garden on the first and you'll trigger the special free spin round of this slot. You'll get just 7 free spins, but each and every one of them comes with triple the prize payouts. That's pretty powerful and it makes it easy to get some huge wins. Firefly symbols start showing up when you make it to the free spins round, and if you get three or more of these symbols you'll enjoy additional free spins. These rounds can go on for a really long time with enough luck and it's possible to get huge chains of wins from the free spins with enough luck on your side.