Wooden Boy Slots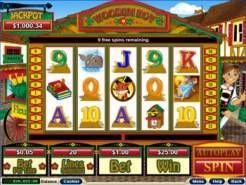 Current Jackpot
$2,177.57
Play Now
Wooden Boy is a cool little slot game themed after the story of Pinocchio. It has a very clean look with neat little cartoon symbols and a backdrop of the woodcarver's shop. The symbols of the game all point to different characters throughout the Pinocchio film by Disney. You'll notice the cunning fox, Pinocchio himself, the whale, the fairy and other key symbols that bring this game to life. It's a trip down memory lane, only this trip could result in potentially thousands of dollars being deposited into your bank account. There's a lot going on in this slot, and that helps keep things interesting. Keep reading on to learn all about what Wooden Boy has to offer gamblers.
Bet Big or Small
In Wooden Boy you have some major flexibility when it comes to placing a wager. Wagers can be very small with a minimum of just $0.01 and very larger with a max of $100.00. It's up to you to choose the level that is comfortable. Most high rollers and low stakes players will have no trouble getting a bet they enjoy with Wooden Boy, which is one of its best features.
The Wild Wooden Boy
Pinocchio the wooden boy brought to life serves as the wild in this slot game. He's animated and can replace all the symbols of a reel other than fairy scatters. He's a powerful symbol and can result in win chains on a single spin. The wild also has an important part to play in the free spin round of the game that we'll learn about a bit later.
Free Spins
There is a special free spin round in Wooden Boy that triggers any time there are three or more fairy symbols. Getting three fairies results in 5 free spins, four gives you 10 free spins and five gives you a total of 15 free spins. During these free spins the wild symbol becomes more powerful than ever. The wooden boy symbol will triple any prize that he's part of. That means you can get three times as much cash for some of the biggest prizes in the game. If you're a fan of Pinocchio and his story, you'll love this slot game. If you want a good clean looking slot with decent prize payouts, you'll enjoy this slot. It's a decent game, it offers decent payouts and it's worth testing at least once. Wooden Boy is recommended by us for this very reason, so consider giving it a shot.