Eagle Shadow Fist Slots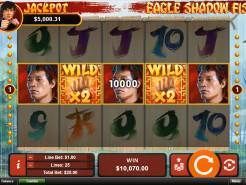 Current Jackpot
$30,221.08
Play Now
Eagle Shadow Fist is an online slot game themed after the movie that made Jackie Chan famous. The slot game itself is full of Kung Fu and interesting features and prizes that make it very interesting to play through. The game offers huge prize payouts, and it looks pretty good as well, which makes it worth testing out. That's why we pieced together this review of the game, so you can see what it offers for yourself.
Double Wilds
Getting a wild in this slot game means that you'll be winning bigger and better. That's because when a wild helps complete a prize payout, that payout is doubled in size just like that. It's pretty simple to unlock, and the moment that you do you'll be winning more money than you expected. The wilds will help complete payouts for anything other than the scatters in Eagle Shadow Fist.
Random Jackpot
Lucky players using Eagle Shadow Fist may unlock a progressive jackpot after any spin. There's a special jackpot that grows in size the entire time you play the slot game, and there's a random chance to trigger the payout. There aren't any special symbol combinations that you need to unlock this jackpot, you just need to wait and see if it triggers after a turn on the slot, and if it does you could win hundreds or thousands.
Winning Big
There are plenty of decent prize payouts in this slot game, but the biggest win that you can possibly get during a single spin is a 40,000 coin payout. That's a huge amount of cash and much more than most other slots will give out at a time. This huge win is usually triggered during the free spin round of Eagle Shadow Fist when prizes pay out up to 4x their standard amount.
Free Spin Fun
A symbol showing two fighters is the scatter in Eagle Shadow Fist, and the tool you need to unlock free spins. Get a minimum of three scatters and you'll enjoy 20 free spins with a multiplier during ever single one of them. The minimum multiplier is 2x, but you can get up to 4x if you trigger the free spin round with five scatters. This is where players unlock the biggest wins, and it's an exciting moment for anyone looking to win big from Eagle Shadow Fist.

This Kung Fu themed slot game can be a lot of fun if you're lucky enough while playing it. Not everyone will unlock the special features of this slot, but when you do you can win big. Keep playing through round after round and eventually the game will get very good.