Fantasy Mission Force Slots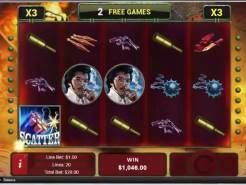 Current Jackpot
$30,221.08
Play Now
Relive your favorite moments from the hit movie Fantasy Mission Force with the slot game with the same name from Real Time Gaming. This slot is themed after the hit film, and it's a pretty fun experience that uses photos that could be taken straight out of the film for symbols. We decided to fully explore the slot to see if it offers more than a nice set of graphics for nostalgic film fans, and we were pleasantly surprised. Keep reading to learn what makes this slot worth a try.
Minimal Wagers
There isn't a huge range to work in when setting your bet on Fantasy Mission Force. The lowest that you can go is $0.01 per line with just one line activated for a $0.01 wager. The highest you can go is $.25 per line with all 20 lines active for a $5.00 wager per spin. Either way you aren't risking a huge amount of money with your spins, but many low-stakes players won't have a problem with the low upper wager cap of the slot.
Watch for Wilds
The wild symbol shows up on all the reels but the first, and it's a powerful symbol that can help you win more frequently and win bigger prizes as well. The wilds substitute for anything other than scatter symbols. When the symbol shows up it will double any prize that it helps create. That means that the top payout of 2,500 coins can instantly be doubled to 5,000 coins with enough luck on your side, and that's a much better win.
Unlock the Free Games
To unlock the free games feature of Fantasy Mission Force you need to get a wild on the last reel and a scatter on the first reel. The moment that you do that you'll enjoy 7 free spins with a 3x multiplier. Although you can't trigger additional spins with a scatter and wild combination during your free spin rounds, you can unlock additional spins with the Kaboom! feature. You'll notice that a special fuse shows up on some symbols as you go through the rounds and this fuse can give you up to three additional spins per fuse that shows up. It's simple to trigger this special round and you're likely to do so at least one time while playing Fantasy Mission Force.
A Random Jackpot
There's nothing better than winning an unexpected payout and that's a common occurrence when you play Fantasy Mission Force slots. That's because there's a random progressive jackpot that you can unlock without warning. There's no symbol combination that you need to trigger this jackpot and it will unlock after a random spin if you are lucky enough.

Fantasy Mission Force isn't the most beautiful slot out there, and it doesn't have a huge number of features, but it's perfect for fans of the film that want to keep enjoying the experience for longer. Give the game a try and you might come to enjoy the different prizes and features that it offers.