Aladdin's Wishes Slots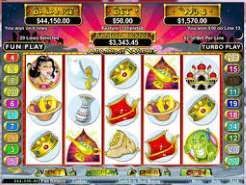 Current Jackpot
$3,589.74
Play Now
Aladdin's Wishes is a beautiful online slot game that's themed after the popular Disney Film that was released in the early 90's. This online slot game offers a nice set of symbols, but does it offer the features to back them up? That's exactly what we want to find out. That's why we've taken the time to review this slot carefully. Read on to learn what the slot has to offer and if it's worth playing or not.
Setting a Bet
There are plenty of wagering options in Aladdin's Wishes that makes it friendly to most slot players of different levels. If you want to make your money last as long as possible you can wager as little as $0.01 while playing the slot. If you want to win as much as possible you can go all the way up to $100.00 per spin across 20 different reels, putting the coin value for the game at $5.00 each. Either way there is a lot of money on the line in this fun slot game.
A Beautiful Slot Game
Aladdin's Wishes doesn't skimp when it comes to the look and feel of the slot game. The creators knew that getting these elements right was important and they did an excellent job. From the moment that you start playing the slot game you'll enjoy the colorful characters and the different fun features that are infused into the story.
A Decent Top Jackpot
The very best win that you can get from Aladdin's Wishes in a single spin during the regular rounds of the slot is 10,000 coins. That's a huge win and a solid payout that most gamblers would enjoy, especially if they are wagering a higher amount of money while playing this slot game online. That would be as much money as $50,000 with a top wager while playing the slot game.
Random Jackpot
There's a random jackpot feature in Aladdin's Wishes that gives you a chance to win prizes even if you don't get a winning symbol combination. You just need to spin the reels and you'll have a chance to unlock the random prize. It can be several thousand dollars and is almost always over $1,000 when you play.
Lamp Free Spin
Get three or more of the lamp symbols on the reels at the same time and you'll trigger the special free spin bonus round of this slot game. The special bonus round offers up to 25 free spins with an ice multiplier on them, but you have to unlock those bonus features. To do so you need to choose the available lamps on the screen and hope that you find the right prizes behind them. After you make all your picks you are taken to the free spin round to try and win as much cash as you can.

Aladdin's Wishes is a beautiful online slot game that makes the most of the theme of the game and the features available. It gives players plenty of chances to win big as they play through round after round, and just offers a fun way to relax at the end of the day as well. Give it a try and you'll be glad that you did, especially if you unlock the special free spin round of the slot.