Trigger Happy Slots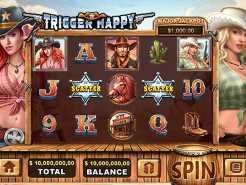 Current Jackpot
$1,259.37
Play Now
Serious fans of the Wild West, cowboys, bank robbers and all that stuff will feel right at home while testing out Trigger Happy , a new offering from Realtime Gaming. The slot game features a pair of beautiful cowgirls, along with all the standard symbols you would expect to see in a Wild West setting. The slot promises some pretty enticing bonuses, a decent wild and scatter selection and a lot of other promising benefits that make it worth testing out at least once.
About Trigger Happy
This slot game is designed with a western theme and the thing you'll notice first about the game is the two alluring cowgirls. There's a blond and a redhead and they both offer exciting bonuses and powerful features that can help you win big. If you're interested in making the most of your time gambling online, you'll want to make use of them and the scatters to trigger the bonus rounds, free spins and jackpot payouts that make this slot game special.
The Slot Developer
No introduction is necessary for Realtime Gaming. The slot developer is a giant in the gaming industry and well-known for producing high-end slot games with a nice theme and a good mix of bonuses and special features. Realtime Gaming doesn't just offer nice graphics and features, but also smooth gameplay and reliable performance that you can count on while wagering.
Trying the Slot with Demo Play
There's no reason for you to spend real money playing Trigger Happy, you can try the game completely free. Simply visit a casino website that's offering the game and click on it. The game will load up in your web browser and you can play it for free. Just remember that you aren't playing for real money in this game mode.
The Theme
Trigger Happy creates a nice Western theme with every single one of its symbols. Even the standard letter and number symbols are given an old worn wood look and equipped with a metallic border that makes them look like
Clever Game Design
A lot of time and effort was put into Trigger Happy to make it a smooth flowing and exciting slot game. There is just the right blend of free spin bonuses, random jackpots, scatters, wilds and additional bonus benefits to keep things interesting each time that you spin the reels. If you're the sort of gambler that enjoys action and features, you will enjoy what this slot has to offer you.
The Slot Setup
This slot game is featured over a total of 30 paylines, giving you lots of variety depending on how you set things up. Choose to have all 30 lines active, or keep only a single line active, it's totally up to you. You also have the option to adjust your wager for each independent payline to be between $0.01 and $30.00 each. That gives you a massive set of wagers to work with, making it easy to bet at any level that you want while you play the slot game.
Looking at the Paytable
A quick look at the paytable for this slot game tells you that you won't get rich from a single win while spinning the reels. That doesn't mean that you can't get a respectable win though. While playing Trigger Happy you can win up to 1,000 times your line bet which isn't half bad if you have a large wager in position. Things get even more interesting when you secure multiple wins at the same time while playing the slot.
Enjoying the Bonus Round
While playing Trigger Happy there's always a small chance that you'll unlock the random feature trigger. This trigger either gives you random free spins with between 5 and 10 free spins, or it puts you into the Trigger Happy feature explained below. Either way, you'll enjoy free spins and some good win opportunities as you play this slot game from start to finish.
Trigger Happy Free Spins
Trigger Happy comes with a powerful bonus feature that's triggered by getting three or more of the badge symbols. Get those symbols and you'll unlock a free spin round with a total of 7 free spins. Choose the redhead or the blonde and you'll set that symbol as the 2x multiplier all throughout your free spin rounds. That's not the only benefit that you'll enjoy though, depending on the girl you choose you'll enjoy an additional bonus as well. Choose the blonde and you'll either get the blonde cowgirl across the 5th reel or she will show up on the 4th and 5th reels throughout your turn. Choose the redhead and she will count as a scatter symbol, or she will cover the entire 1st reel throughout the free spin rounds.
The Game RTP
We don't have word from RTG yet about the exact return to player (RTP) that this slot game offers, but a pretty standard figure is 96% and you should expect at least that from the slot game. Trigger Happy is likely another slot game that offers a good value to gamblers looking to have fun while still maintaining a good chance of winning some decent prizes in the process.
Our Slot Rating
After taking a look at all the different features, the paytable and the jackpot prize opportunities along with the nice graphics we can honestly say that we give this slot a 4 out of 5 for our rating. It's not the best slot that you can play today, but it's a good solid addition to the RTG slot library and it's a good time.
Major Trigger Happy Winners
Between some decent fixed jackpot payouts offered by this slot, several progressive jackpot opportunities and the chance to trigger some exciting prize combinations, there is a lot to like about playing Trigger Happy the online slot game. Some big winners are already coming forward for the slot game, and more big winners will likely be created as this slot grows in popularity.
Playing for Fun
There's no pressure or risk involved if you want to test out Trigger Happy. The slot game offers a free-play demo mode that you can use to get familiar with the different features and the betting options offered by the slot. Test it out with play money and consider switching to real money at a later date.
Playing for Real Money
You can't fully appreciate Trigger Happy without trying the game out using real money. That's where the excitement of the prize payouts becomes real, and when you will finally start to get comfortable with the slot game and all that it offers you. If you want to fully experience what the game has to offer, give it a try by joining one of the popular online casinos, making a real money deposit and playing Trigger Happy.
Enjoy on Android and iOS
Trigger Happy is a high-action lot game and you can bring the fun with you wherever you go, because it's been designed to work on mobile devices smoothly. If you like gambling on the go, you can do just that by loading up your favorite Realtime Gaming casino on your smartphone and playing the slot right in your web browser. The game will play just like it does on a full-sized computer. Trigger Happy is a top-quality slot game and it's the type of slot that we're comfortable recommending to other players looking for something new to test out. If you like Western slots, beautiful women, or you just want a de