Plentiful Treasure Slots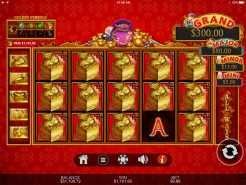 Current Jackpot
$8,256.61
Play Now
Plentiful Treasure is an Asian themed online slot game that shows off several different golden symbols, jewelry, and treasures that most people would be happy to get their hands on. This slot game comes packed with some interesting and unique features and will give you plenty of different ways to win big if you're interested in that sort of thing. We made a full review of the slot down below, take a look at it to see what you can get from the gambling experience.
243 Ways to Win
Even though Plentiful Treasure offers 243 different ways to win, and you can't select how many paylines you want to wager on, the slot plays like there are 88 paylines total and you can't adjust the number of paylines while wagering. That means your minimum wager amount is $0.88 per spin and with a maximum line bet of $.10 your maximum wager is $8.80 per spin. That's not a huge wagering range, but it should make it possible for many gamblers to play at a comfortable wager amount.
Two Different Wild Symbols
There are two special wild symbols that can help you unlock additional payouts as you play Plentiful Treasure. One wild appears only on reels 2, 3 and 4 and takes the place of all but the other wild and the scatter symbol. The pearl wild appears on only the third reel and takes the place of all but the other wild and the scatter as well. The pearl wild is a powerful symbol though and can offer you a multiplier between 1x and 5x for the prize combinations it helps you create.
Low Prize Payouts
Generally, we like to stick with slot games that have some high fixed prize payouts to keep things exciting. That's not the case with Plentiful Treasure though. This slot game offers pretty small prize payouts compared to other slots we've played in the past, and the best payouts you can get from fixed prize symbols is worth just 680 coins which isn't that much at all. The scatter is a pretty powerful symbol offering a 50x prize payout multiplied by your entire wager amount, but even that isn't very large compared to many other slot games.
High Power Free Spins
By getting three or more of the scatter symbols out on the reels at the same time you will trigger the special free spin bonus round. During the round, you get a total of 8 free spins and all the card symbols are removed from the reels during that time. That means you will unlock higher prize payouts more frequently and will end up with some more exciting wins.
An Exciting Jackpot System
Plentiful Treasure features a special jackpot feature that you can trigger at any time while playing the game. Get the right symbol on the reels and you will trigger one of the available jackpots available to you depending on your wager amount. Wager a high enough amount and you'll have multiple jackpots available, the jackpot you get will be determined by the gold coin feature. In the Gold Coin feature, you select from one of the many different gold coins and your selection determines what sort of jackpot prize you unlock. The jackpots are worth tens, hundreds and thousands of dollars depending on the one that you win, giving you plenty of high-paying options to hope for as you spin the reels of the slot game.
Simple Autoplay
If you're the type of gambler that likes playing for extended periods, but doesn't enjoy pressing the spin button again and again, you will love the Autoplay feature. The feature makes it possible to set the game to automatically go through between 5 and 100 spins, or to continue going until the game's bonus feature activates. To turn the feature on simply press the Autoplay button and choose the spin amount you want to go with. Then the game will do the rest on its own. Plentiful Treasure is a rewarding slot game with several different prize winning opportunities for you to try for. If you're searching for a slot that will give you many ways to win, and that will keep things interesting while also being affordable, Plentiful Treasure is a decent option.