Mystic Dragon Slots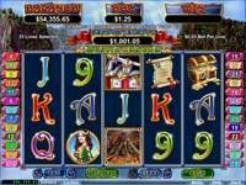 Current Jackpot
$2,751.31
Play Now
Mystic Dragon is a cool looking online slot game that features a serene mountainous backdrop, some nice looking symbols and a cool set of features. We were impressed overall with the game when testing it out, but it may not be the right slot for everyone out there. Keep reading to learn why we liked the slot and the few points where it could improve a bit and you'll quickly see if it's a slot for you or not.
Setting a Bet Amount
Mystic Dragon gives gamblers plenty of wagering options to work with, which is really nice. Whether you want to preserve your small bankroll until the end of time, or you want to bet big and shoot for the highest possible prize payouts, you can do that with Mystic Dragon. There are 25 paylines and you can wager on between 1 and 25 of them. Each line takes a single coin wager, and that coin value is adjustable from $0.01 to $5.00. That means you have a working wager range of $0.01 and $125.00 depending on the amount of risk that you're comfortable with. Choose with care and you could end up with a very nice win with a bit of luck on your side.
High Paying Scatters
Most slots don't offer much with their scatters and you're lucky to get a 100x prize payout with the top scatter combination. That's not true with Mystic Dragon. In this slot five scatters are worth an amazing 500x multiplier over your base wager. That means if you're wagering the maximum of $125 you can get up to $62,500 from five scatter symbols, which is very generous.
Solid Win Opportunities
Players using Mystic Dragon have the chance at two nice sized prize wins of between 20,000 and 40,000 coins. The best symbol combination during the standard rounds of the game are worth 20,000 coins or up to $100,000 if you've placed a top wager. During the bonus game of Mystic Dragon you can win up to 40,000 coins or a whopping $200,000 from the slot, which is huge.
Random Jackpot Goodness
There's nothing like thinking you got an unlucky spin that's not going to pay anything at all, to unlocking a powerful jackpot and winning thousands. That's the type of experience you could have with Mystic Dragon slot with a bit of luck. That's because there is a completely random jackpot built into this online slot game that triggers after any spin of the reels. It's tough to unlock this prize, but if you do you'll be rewarded handsomely for doing so.
Mystic Dragon is a nice looking online slot with a decent set of features and plenty of ways to win big. For those reasons it's worth playing. If you're looking for a slot game with more advanced features like bonus games, this one isn't the one to play.