Fruit Frenzy Slot Game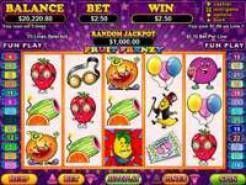 Current Jackpot
$1,805.83
Play Now
Fruit Frenzy is a unique slot game that shows off a collection of happy fruit cartoon characters. It's bright, it's cute and it's a whole lot of fun as well. The slot game itself is pretty standard. You can select up to 25 pay lines on the five reel slot, and start playing toward all the many different prizes on the line.
Bet Limits
Before you start playing this carnival of a slot game, you'll need to pick your bet amount. That means selecting between 1 and 25 pay lines, and deciding on a line bet of between $.01 and $5.00. You can risk a penny per spin or you can risk all the way up to $125 with each and every spin. That's a huge variance and it's a feature that's actually a positive for this slot game, you get to bet in any range that you like.
Carnival Themed Prizes
While playing the standard game you're going to be trying to get tickets and balloons for 100x your line bet. You'll be going for cannons or the clown cars for 200x, the plum pay out 250x, the Banana Ringmaster is worth 500x, the Pear Escape Artist will reward you with 1000x and the Clown is worth a whopping 2,000x your line bet, which can be as much as $10,000.
Cash in with the Progressive Jackpot
This fruit loving slot game comes with a progressive jackpot in the thousands of dollars. It's continually growing and offers a whole lot to players that get lucky enough to win the top prize.
Take on the Daredevil Strawberry Bonus
The slot features a special Daredevil Strawberry bonus game that's a lot of fun. To activate this feature you need a 5-of-a-kind win with any of the symbols and you'll be brought to the game. Once the game is started it's up to you to shoot down the strawberry using a melon cannon. It's a pretty fun game, and each time you're able to take out the strawberry you'll be awarded some free spins. The best part is, all those free spins double any prizes that you win while playing, which means you could get as much as 4,000x your prize during those free rounds or up to $20,000.

There are few online slot games with more features to offer than Fruit Frenzy, and that makes this a fun option for anyone. It's simple enough to for new players to get started with, and offers enough bonuses, scatters and special features to keep just about anyone interested over time.