Football Fortunes Slots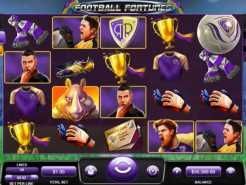 Current Jackpot
$3,999.65
Play Now
Do you like Football? How about upbeat and vibrant slots complete with several bonus features? Well, then Football Fortunes ought to be a slot that you consider. This game comes loaded with features, it looks nice, it sounds nice and it packs a punch in terms of prizes as well. You could get rich playing this slot game, but even if you don't you'll probably have a good time doing it. Keep reading to find out what you can expect from this slot game and why you should probably consider testing it out at least once.
Upbeat Music
The very first thing we noticed while testing this game was the exciting music playlist. The slot sounds just like a football match with stadiums filled with fans and intense play music in the background. It's the type of slot game that will wake you up and make you feel excited about placing wagers.
Basic Autoplay and Speed Settings
When first starting out with the slot you'll want to set up the speed option as well as look at the autoplay options available. There is a fast and slow reel speed that you should try out to see which you prefer. Players that want a more leisurely experience will enjoy the slot option while gamblers that want to get as many spins per minute as possible will appreciate the fast option. Players that like autoplay will enjoy the infinite spin option as well as fixed spin options between 5 and 100 spins. There aren't advanced autoplay settings though, which means you can't stop the game after a big win and will likely want to monitor the slot as it turns the reels for you.
50 Always on Paylines
With 50 paylines that are always active prize payouts come fast and hard when playing this slot. You'll win very frequently as you play, but you'll spend more per spin than you would with other slots. Players looking to win frequently will appreciate the large number of paylines activated every spin, but you may have to wager less per line than you're used to, which will result in smaller one-time prize payouts than some other slot games will offer you.
Low and High Wagering Options
Low-stakes gamblers and high-rollers can both enjoy playing Football Fortunes at a level that's comfortable for them. The lowest wager amount is $0.50 per spin, which might be too much for some players, but many gamblers will be comfortable betting at this level. The wager amount climbs all the way up to $250.00 per spin with a $5.00 wager per line, and that's where the biggest and best prize payouts come from.
Choose Between Rhino and Fortune Modes
When getting started with Football Fortunes players must choose to play in Rhino or Fortune modes. This just adjusts how the free spin game works if you unlock it. Choose Rhino for a 3x multiplier during free spins with up to 100 free games triggered only when you get three or more scatter symbols. Choose Fortune to get free games randomly at the completion of any spin of the reels. These free spins occur more frequently than Rhino free spins but there is no multiplier and you'll receive 8 free spins each time.
Stacked Multiplier Ball Wilds
The ball wilds appear on the first and fifth reels during standard rounds of this slot game. These wilds show up as stacks most of the time and they will double any prize payouts that they help complete. These wilds are very exciting and will lead to frequent prize wins.
Mascot Wins Can be Massive
Not only are the scattered rhino symbols the key to unlocking some nice bonuses, but they're also the key to one of the biggest prize payouts that you can get while playing this slot game. It's possible to win up to 500x your total wager amount by getting five of the rhino symbols. That's worth as much as $125,000 with the maximum wager in place. That's an exciting prize payout for anyone playing the slot, even the high-stakes players out there.
Mild Progressive Jackpot Payouts
There are two progressive jackpot payouts that are pretty minor in size. These are known as Minor and Major and are triggered randomly as you spin the reels. The Minor jackpot is worth a couple of hundred dollars and the Major is usually worth a bit more than $1,000 to whoever wins it. These are exciting prize payouts for low-stakes gamblers spinning the reels, but the prize doesn't increase for the high-rollers which makes it into a disappointing payout for them.
Decent Basic Prizes
With two different fixed prize payouts worth 1,000 credits and another worth 600 credits you can get some decent prize payouts during the standard play session of this slot. It's important to realize that the best-fixed prizes use a wild and standard symbols together and the listed prize payouts are halved without wilds. Either way, you can win up to $5,000 in a single spin on a single line from just fixed payouts, and plenty of gamblers get multiple wins on a single spin with 50 active paylines all available to win on at once.
The Penalty Kick Feature
Along with the free spin bonus rounds that you can trigger while playing this slot, there's also the Penalty Kick feature to look forward to. This bonus is triggered at any time during free games. To trigger this bonus you need to get a bonus ball symbol on each of the reels. During this bonus, you'll be tasked with kicking balls into a goal. You can win between 3x and 100x your wagered amount by getting as many goals as you can during this bonus round. It's a fun and interactive game and an exciting addition to the slot along with the other features.
No Software Downloads
There is no software to download in order to play this slot game. As a Realtime Gaming offering the slot loads right in a web browser. That's very convenient for gamblers looking to get started playing immediately. It also means that mobile players can easily use whatever device they want.
Excellent Mobile Support
As we said up above, this slot will work on nearly any mobile device that you come across today. It runs in web browsers, it runs smoothly and it's so simple to start playing on that it's worth a test session for anyone that likes mobile wagering in general. We give this slot game a 4.5 out of 5.0 stars for its nice looks, enticing music, solid prize payouts, and fun bonus features. There isn't much more that you can ask for out of this slot game, though we do believe that the progressive jackpot prizes should be larger for the high rollers playing the game. Choose Rhino mode or Fortune mode and test this slot game out for yourself. It's a whole lot of fun and certainly worth a playthrough or two.