Coyote Cash Slots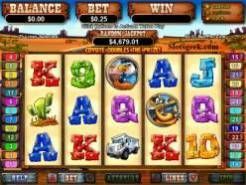 Current Jackpot
$2,565.67
Play Now
Hop into a cartoon version of the old west with Coyote Cash Slots. This cool little cartoony slot game offers some pretty stunning rewards and cool features as well. It's not the right slot for everyone, but we were impressed by what we saw during the review. Read on to learn all about this slot game, or give it a try yourself to decide if it's the right slot for you.
High Paying Coyote Wild
Naturally the Coyote symbol is the wild of this slot and the most valuable of all the symbols as well. This fancy symbol will sub in for all but the scatter symbol. It can appear on all the different lines of the slot and will create a high paying prize of its own as well. Get five Coyote symbols and unlock a prize worth 10,000 coins, or 10,000x the line bet that you have set for the game.
Random Progressive Payout
There's also a random jackpot payout in Coyote Cash slots. This payout is a progressive jackpot that grows in size every round that you and all the other players go through. It grows into the thousands of dollars and pays out at random. To trigger this jackpot you just have to play through a round like normal and have some luck. Do that and you'll be enjoying top jackpots without having to do anything at all.
Free Games
The loot symbol in Coyote Cash are the key to the free game round of this slot. Get three or more of the symbols and enjoy 20 free spins of this slot. During those free spins all the prize payouts that you win will be multiplied. The multiplier that you get from the game depends on the total number of symbols that you have to activate the slot. It starts at 2x and goes up to 4x if you have 5 of the loot symbols to activate the free spin round of the game.

Coyote Cash is a charming little slot game with a lot of character. It features a range of exciting symbols that keep things interesting, and there are enough features to give you the hope of winning all the time. Play through a few rounds of the game and you're likely to be hooked. It's difficult not to like a slot like this one. We encourage you to give the game a try if you want to know what it's like, but even players that don't want to try it out can admire its look. It's a solid slot with features worthy of long term gamblers and it's simple enough for anyone to jump in and start playing along.