Loose Caboose Slot Game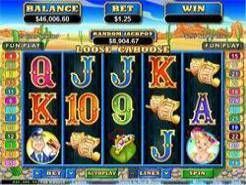 Current Jackpot
$4,726.88
Play Now
All aboard! Gamblers really enjoy the cartoon train theme of RTG's Loose Caboose slot game . This modern video slot has a pretty nostalgic feel and that's what makes it so special. Even though steam engines aren't popular anymore today, you'll find it hard to ignore this online game that's being picked up by players around the world.
Loose Caboose Gameplay
While playing Loose Caboose you should be on the lookout for scatter symbols because they offer bet multipliers between 1x and 200x depending on the number of scatters that you find on the reels. Players can achieve a win of up to 5000 coins by getting five of the caboose scatter symbols, or by getting five engineer wilds.

Next in line is the engine symbol and getting five of those will reward you with 2,500 coins, which is a pretty significant prize all its own.

There's a special bonus round that's triggered by the scatter symbols, and activating it rewards you with a random multiplier that can make your wins much more significant and exciting.
All Aboard the Money Train
The slot game shows off a special feature known as the Money Train. This feature is unlocked by three or more scatter symbols, and as soon as it's unlocked you'll see a train travel across the top reels of your screen. As it does this it will reveal a set of wilds, multipliers and free spins. It's possible to get several of one category and have them stack on top of one another. In some rare instances the train will move over the lower rows as well and create even more significant multipliers, free spins and wilds to look forward to.

After the train passes by, the free spin round begins and it's all based on the bonuses that you unlocked initially. During the free spins you'll enjoy multiplied prizes, additional wilds and a better chance to win than ever before. It's also possible to unlock five additional free spins again and again by getting three or more scatter symbols while already in the free spin round. Any additional free spins will also benefit from your existing spin bonuses.

Loose Caboose is a charming slot game with a pretty cool bonus feature, and it's something that most online players will want to try at least once. The bonus payouts are pretty significant if you're lucky enough to unlock the top jackpot while in the free spin round, and even in the standard game you could find yourself a very wealthy player while playing this slot game.