T-Rex II Slots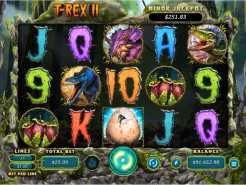 Current Jackpot
$2,963.19
Play Now
There are few creatures more intimidating than the T-Rex, which is why it's fitting that Realtime Gaming (RTG) put together a full series of slots themed after the imposing dinosaur. T-Rex II is the second slot game installment in the series and is a well-done gambling experience. Below we take a close look at the slot to find out if it's the best option from the series, to showcase what sort of features you can expect from the game and to learn just what you can expect if you decide to play the slot for yourself.
A Gritty Cartoon Theme
T-Rex II has a fierce theme and design but it features cartoon symbols at the same time. This unique styling gives the slot real life and makes it more interesting than many of the more generic slot games you'll come across today. If you're searching for a fun slot game with a unique look T-Rex II might catch your eye as it did ours when first looking over it.
Flexible Wagering for All
T-Rex II offers the sort of wagering options that we've come to love. Gamblers that place wagers on this slot can effectively bet between $0.01 and $125.00 per spin depending on the wager settings that they put in place. This is possible thanks to between 1 and 25 adjustable paylines and a coin value between $0.01 and $5.00. Adjust these two values to the levels you are most comfortable with to achieve an ideal wager amount.
A Terrorizing Expanding Wild
The T-Rex symbol itself is one of the most important on the reels. This wild multiplier transforms prize wins with a 2x multiplier. Not only that but this fierce predator will feast on other dinosaurs across the reels and expand, giving you many wilds in a single turn if you're fortunate enough. While it's prey is never happy to see the T-Rex when you play T-Rex II you'll be on the lookout for any and every T-Rex wild that shows itself on the reels.
Trigger the Progressive Jackpots at Any Time
It's possible to trigger the progressive jackpot payouts at any moment while playing T-Rex II the slot game. There are two jackpots, the Major and the Minor, and they pay out randomly. The Major starts off at $1,000 and increases in value with each spin. The Minor begins at $250 and grows as well. These jackpots are just one of the ways that you can unlock serious prize payouts while wagering on this slot game.
Huge Prize Potential
The biggest prize payout that can be won while playing this slot is 5,000 coins per top winning combination. That means it's possible for one lucky player to win many times this top fixed payout by getting many of the top prizes at the same time. Seriously good prize-winning combinations can be triggered with enough luck while playing T-Rex II the slot game.
Scatter Egg Free Spins
Some of the most impressive wins come from combination prize payouts that occur during the free spin bonus round in T-Rex II. Scatter egg symbols are used to unlock this special feature of the slot game. Get three or more of the scatters across your reels and you'll get this special bonus going. The free spin bonus comes with between 10, 20 and 100 free games depending on how many scatter symbols you get. During the bonus rounds, the T-Rex wild remains active and you can trigger additional free spins at any time by getting three or more scatter symbols once again.
Try it For Free
T-Rex II is an online slot game that you can try for free. The game works just as it would when played with real money in a Demo mode. That means that gamblers can test out all the features and see exactly what the game feels like to play without spending any money to do so.
T-Rex II is Made for Mobile Gambling
There's nothing like gaming while on the go wherever you are. That's possible when playing on a mobile device like a tablet, but not all slot games work well on mobile. T-Rex II has been optimized to run smoothly on most mobile devices. That means you can load up the game and play wherever you want as long as there is a decent internet connection. T-Rex II is a generous online slot game that shows just what RTG is capable of. The game is beautiful to look at, it's fun to play with a dynamic wild feature that keeps things interesting, and it offers the jackpot potential that we look for in a slot game. Between all these features it's hard not to at least enjoy playing T-Rex II. Give it a try for yourself if it sounds appealing. Who knows, it might become your new favorite!