Rain Dance Slots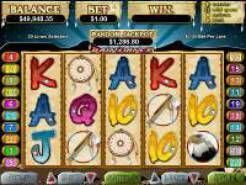 Current Jackpot
$1,082.25
Play Now
Rain Dance is a fun Native American themed slot game that's packed with symbols like Bald Eagles, Tipis, Tomahawks, Dream Catchers, chiefs and more that all relate to the theme nicely. The game is nice looking, but also shows off some decent features. Whether or not they make the game worth playing is completely up to you. Read on to learn more about what we discovered while testing out this cool slot.
The Betting Range
While exploring the full betting range, we were impressed with all the options that are available to choose from. Gamblers can set between 1 and 20 lines to be active in this slot game and they are free to pick and choose the amount of cash they want to bet on each and every one of those active lines. The minimum bet can be as low as $0.01 and the maximum is $5.00 per line, giving you a maximum bet of $100.00 with all the lines active and ready to go. That's a nice range of bet options and it's good for gamblers that want to have options available to them.
The Re-Spin Feature
This slot comes packed with a re-spin feature that makes it possible to unlock a mess-load of free spins. Get two scatter and the reels will instantly re-spin with the scatters locked in position. Get three or more after the re-spin round and unlock between 15 and 100 spins depending on the number of scatters. This feature can be triggered again during free spin rounds and it's possible to stack up a huge number of free spins with enough luck.
Watch for the Chief
The Chief symbol is Rain Dance's wild and it will double any prize that it's part of. This wild symbol is powerful, but it only appears on the first and last reels of this slot game. That reduces the chances it will show up, making it all the more desirable overall.
The Tipi Jackpot
The Tipi symbol is the most valuable symbol in Rain Dance and will help you unlock the biggest jackpots possible during the standard rounds of the game. It's possible to get as much as 2,500 coins from five of the Tipi symbols, and they become even more valuable when you add in one of the Chief symbols to the mix, raising the top value of these symbols to 5,000 coins.
Solid Progressive Jackpot
Rain Dance comes with a random occurring progressive jackpot that can be triggered at any point in time while gambling. Triggering the jackpot is as simple as getting lucky while gambling. It initiates automatically and can be higher than $10,000 for the lucky players that actually end up unlocking the payout.
Rain Dance is a cool Native American themed slot game with solid payouts both during standard rounds and during the free spin rounds. It's a lucrative slot game for the lucky players, and it's a lot of fun for everyone to try out.