Prince of Sherwood Slots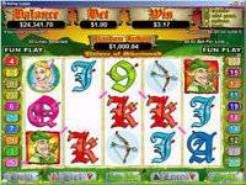 Current Jackpot
$1,000.62
Play Now
Now you can experience the thrill of Robin Hood's story for yourself with the Prince of Sherwood slot game . This cool slot shows off some really clean looking cartoon symbols on a 20 payline video slot that offers solid payouts to the players lucky enough to win. It can be played for free to test it out, but the real strength of this slot comes in all the winning opportunities that it offers to real money gamblers. Below we'll dig into what this slot has to offer and you can decide if you like Prince of Sherwood for yourself.
Betting
When it comes to the amount of cash you bet on this slot game, it's really up to you how much you want to risk while playing. You can risk as little as $0.01 per spin by making only one payline active and betting the minimum of $.01 on it, or you can amp things up and bet up to $5.00 on each of the 20 paylines and risk $100.00 with every single spin. What you do is entirely up to you, so choose wisely.
Castle Scatters
The castle symbols serve as scatters in the Prince of Sherwood slot game and they will trigger payouts based on your full bet amount depending on how much you're betting. Get two or more scatters and receive a nice payout as a result.
Archery Bonus Round
Get three or more of the target symbols to unlock the special archery bonus round. This round of the game lets you go through the steps to try and become a champion archer and unlock the biggest prize that you can. During the round you need to choose a contender, and then you'll have to watch the match unfold in front of you. The first shot is to determine how big of a prize you'll unlock up to 100x your bet. From there you'll watch through the second round of the match to determine how many free spins you'll unlock for after the bonus game concludes. Those free spins can help you unlock some very impressive wins with enough luck on your side.
Random Progressive
It's also good to note the random progressive jackpot that's available on this slot game. It triggers for seemingly no reason at all and can be triggered by any spin that you make on the reels. Once you unlock it, you'll be rewarded with the full amount listed on the box up above. It grows pretty large, so it's a huge win if you get lucky.

The Prince of Sherwood is an okay slot in our book. It's fun to play, has a good theme, looks nice, pays out pretty well and more importantly, it has more than enough special features to keep things very interesting. Give it a try, or don't, but you'll be missing out!