Penguin Power Slots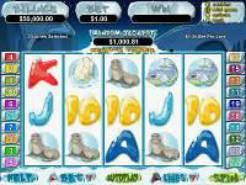 Current Jackpot
$2,558.18
Play Now
Penguin Power is a cute slot game by Realtime Gaming that we decided to review fully after being drawn in by its graphics alone. This online slot game is designed to offer plenty of winning opportunities to gamblers trying it out, but are the cut graphics and the features enough to make it worth trying out? That's exactly what we're going to cover in the review down below.
Wagering Options
Penguin Power offers gamblers quite a few wagering options to pick and choose from. The slot game has a total of 20 paylines, and you are free to place coins on as few or as many of those lines as you like while playing. The minimum amount you can place on a line is $0.01 and the maximum is $5.00, so you have a working gambling range of $0.01 and $100.00 to play with. Pick and choose the amount that you are most comfortable with and get playing.
A Powerful Wild
The cute and adorable baby penguin symbol is one of the most effective tools in Penguin Power for a few reasons. The first reason is because it's a versatile wild symbol that helps complete a wide range of prize winning combinations. The second reason is because it's a powerful multiplier and will actually double the value of any prize that it helps create. This symbol appears on the middle three reels and is something that you'll want to look out for each time you play Penguin Power.
A Decent Top Win
The highest fixed payout that you can get from Penguin Power is 5,000 coins and you can do that by getting four of the penguin symbols along with one of the baby penguin symbols. That's worth as much as $25,000 if you've placed a top wager before playing this slot game, which is pretty darned good if you ask us.
Exciting Bonus Spin Round
The Igloo is one of the best symbols in Penguin Power because it's a scatter that can pay out as much a 4,000 coins when you get five of them anywhere on the reels. This symbol also serves as the activator for the free spin feature in the slot game, which means that you can very easily get between 5 and 25 free spins with three or more of these symbols. Once the free spin round is activated you'll enjoy an increased number of baby penguin and igloo symbols, helping you unlock an increased number of wins, and more lucrative wins as well.
Penguin Power is a very nice looking slot game with some halfway decent features, but players will find themselves depending on the increased number of prize payouts when playing the free spin round in order to take home any decent wins. The top prizes offered by this slot just aren't lucrative enough to be exciting to a gambler unless they are wagering a huge amount of money, which means that several smaller prizes will be the best way to win big in this slot.