PayDirt! Slots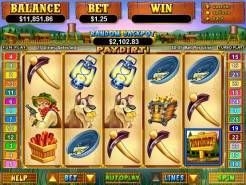 Current Jackpot
$3,601.58
Play Now
Transform yourself into a serious gold miner in PayDirt! the online slot game by Real Time Gaming. This slot features a nice set of graphics, and some powerful features as well, and is known for being one of the loosest slot games that Real Time Gaming has to offer. We were pretty impressed with the feature combination offered by this slot, and that's why we took the time to fully review the slot.
Adjustable Bet Levels
This mining slot comes with a total of 25 paylines and you can turn them on and off to suit your needs. Set the amount to a level that you are comfortable with, and then adjust your line bet amount to a different level as well. Line bet values can range from as little as $0.01 to as much as $5.00 per line, giving you a wagering range of $0.01 to $125.00 overall. That's a good range to work within, and it means that most gamblers should be able to find a comfortable level to wager at.
Powerful Gold Nugget Wilds
The gold nugget symbols serve as the wild for this slot game and they come stacked up as well. These wilds show on reels 2 and 4 and you can get up to a full reel of wilds stacked up for serious winning opportunities. The wilds also come with a powerful multiplier feature and will transform standard wins to 3x wins in a flash. You will win the biggest possible standard game prizes with help from these wilds and could come away with as much as 30,000 coins with a gold nugget helping out. That's a value of up to $150,000!
Three Bonus Games
The Pay Dirt symbols are scatters in this slot, and three or more of them will trigger one of the three different bonus features offered. Get these symbols lined up properly and you're looking at free spins or choose your prize type bonus games. We'll cover each of the different game options down below so you know what you have to look forward to.

Gold Rush is the first bonus and it doesn't come with any multiplier at all. Instead, this slot comes with many more wilds than normal. You'll get 12 free spins with wilds added to all of the different reels, which means you could potentially fill the entire game up with wilds and unlock a massive 750,000 coin prize payout!

Gold Fever is the next bonus game and it gives you a total of 5 free games with a middle reel that's full wilds. Since there are wilds on reels 2 and 4, you can potentially get a ton of wilds out at the same time and some monstrous prize payouts during this special feature.

Finally, there is the Strike it Lucky featre. This feature gives you five gold mines to choose from. You'll choose a single symbol from the five available and that symbol becomes wild during the 10 free spins that you get from the game, giving you extra chances to win prizes.

Pay Dirt is an exciting online slot game with good graphics, excellent bonus features and good solid prize payouts. It offers serious gamblers the chance for some sizeable wins, and keeps things interesting with every round that you play through. If you're looking for a good solid slot with a mining theme, Paydirt! could be the game for you.