Paris Beauty Slots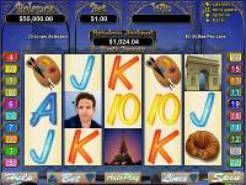 Current Jackpot
$1,001.26
Play Now
Paris' Beauty is an online slot game that's focused around the nice looking city of Paris and what it has to offer. The slot features nice looking symbols and a decent seat of features as well, but that doesn't mean it's right for everyone. The game may or may not be a good fit for you, keep reading to find out which it is.
Wagering Limits
We were impressed with the range of wagering limits available in Paris Beauty slot. In this game there are a total of 20 paylines and you can wager between $0.01 and $5.00 per line. You can have as little as 1 and as many as 20 lines active at a time, which means that you can wager between $0.01 and $100.00 per spin while playing this slot game. That's a lot of wagering diversity for you to work within.
The Lady Wild
The beautiful lady symbol is the wild in Paris Beauty and will help you unlock bigger and better prize payouts. This beautiful symbol will substitute for most standard symbols, and the best part is that she triples prizes that she's involved with. That means the highest win that you can get goes from 1,500 coins up to 4,500 coins with some help from her. You'll be thrilled each time the lady symbol shows up and she'll help you win far more in prizes over your play session. She only shows on reels 1 and five though, so you'll need paying symbols on all the other reels to win big.
High Paying Scatters
The Eiffel tower is an iconic symbol of Paris that most people are familiar with today. If you get five of these symbols you'll win 100 times your total wager amount, which could be as much as $10,000 if you're wagering the maximum amount of cash while paying. Getting three or more of these symbols will also reward you with the free spin round for more chances to win.

During the free spin rounds of Paris Beauty any prize you win is doubled in size and you can still get multiplied wins using a wild symbol. That means that the biggest payout you can get during a free spin round is 9,000 coins, which is quite a sum to win.
A Powerful Progressive Jackpot
Paris Beauty also comes with a progressive jackpot feature that you can unlock during any round of the game. It unlocks automatically and randomly so there is nothing that you need to do to get this feature going except continue spinning the reels. Once you unlock the jackpot you can win tens of thousands of dollars all in one turn. You can wager any amount to trigger the jackpot, which means that any player testing out this slot has a chance at winning big.

Paris' Beauty is a nice looking online slot game with quite a bit to offer gamblers. The base game prize payouts are pretty small compared to some other slots, but with the multipliers and special features the game makes up for all that. There's a lot of money on the line as you play through the rounds of this slot, and between the high payouts and the nice looking symbols there is a lot to like about this slot game.