Lucky Last Slots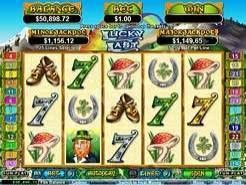 Current Jackpot
$1,952.34
Play Now
Lucky Last is an Irish themed online slot game that's all about luck and the different symbols that the word is tied to. From the very moment that you get started with this slot game you'll be looking at leprechauns, horseshoes, clovers and number 7's. The slot is pretty nice looking with a beautiful backdrop, but it does look a bit generic as well. We decided to dig into what makes this slot game so special, and did a review while looking closely at the features of Lucky Last.
Variable Wagering
Lucky Last offers gamblers a good range of betting options to work with, which makes it possible to set all sorts of wagers comfortably. From the moment that you get started with the slot game, you can bet big or small depending on the money that you have to work with. Wager as little as $0.01 on one payline, or as much as $5.00 on 25 paylines for a total of $125.00 per spin. The available range to work in is excellent for making comfortable wagers and it should be wide enough to keep everyone nice and comfortable while playing.
The Powerful Golden Coin
Golden coins are wild in this online slot game and they are a powerful multiplier as well. Even though the coins only appear on the first and last reels, they will double any prizes that you create with their help. You can also trigger a set of 7 free spins by getting golden coins on the first and last reels of the game.
Free Spins
Get two golden coins at the same time and you can unlock a total of 7 free spins. During these rounds your winnings are tripled for the first 6 spins and then doubled for the final spin. That means that you can win the biggest possible prizes during the free spin rounds of the slot game. Get the biggest jackpot during the first 6 rounds and you'll enjoy a 30,000 coin payout worth as much as $150,000.
Win Big
During the standard rounds of Lucky Last you can win as much as 10,000 coins by getting four of the leprechaun symbols and one golden coin symbol as well. That's worth as much as $50,000. You can double or triple that amount during the free spin rounds for even bigger wins.
Random Jakpots
On top of all the other impressive features of Lucky Last, the slot game also offers two random jackpots that you can unlock. They can trigger at the conclusion of any spin and are worth hundreds or thousands depending on if you get the minor or major jackpot. Either way, there is a lot of cash on the line when you play this slot game.

Lucky Last is a bit generic looking on the surface, but this online slot game packs a real punch in terms of its features. It comes with a bunch of different prize opportunities including solid jackpots, free spin rounds and random jackpots as well. Give it a try and you could end up winning big.