Haunted Opera Slot Game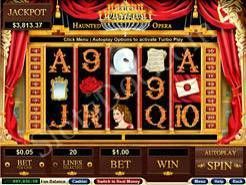 Current Jackpot
$1,920.66
Play Now
The Phantom of the Opera is one of the most popular plays around the world and most people have generally heard of the story at one point or another. The Haunted Opera is an eerie slot game that's based on that story. While playing you'll be trying to get both the mask and letter symbols to unlock a special bonus round for the highest prizes available. The game features a pretty traditional look with basic card symbols, but it also has the opera symbols that are all created with the same cartoony design that gives the game real character. With a random progressive jackpot, a maximum betting limit of $50 per spin this game is worth a look and quite a bit of fun to play.
Playing
While playing this Phantom of the Opera based slot game you'll be trying for the letter and mask symbols with each spin of the reels. The letter symbol is the scatter and will pay out each time that it shows up. Not only that but it serves as a key to unlock the special bonus round as well. The mask serves as the game's wild and will double any win that it's part of. It's something that you'll want to show up often, especially when you unlock one of the game's larger jackpot payouts.
Bonus Game
There's a special bonus round that you can unlock by getting a Mask symbol and a Letter symbol on the first and last reels. Doing this will put you into a five free spin round that offers triple prizes throughout. During this special free spin round you should expect to win some pretty nice prizes. There is no way to retrigger the free spin round while using your free spins though, so you will have to wait until you get back to the standard game before you go after another bonus round again. During this bonus round you can get up to 6x prizes if you unlock them with the mask symbol as well, making for some very generous payouts.
The Random Progressive
Many slot games feature a rare progressive jackpot feature that pays out a prize when the player gets the right symbols or meets the proper conditions. The Haunted Opera casino game pays out a progressive jackpot randomly, you don't have to meet any specific conditions to unlock it. That's a pretty exciting feature that will always keep you on the edge of your seat waiting to unlock a generous bonus that could be more than $1,000 if you are lucky. Each time you spin the reels of the game that progressive jackpot will grow a bit larger, until finally it's worth a huge amount.