Green Light Slot Game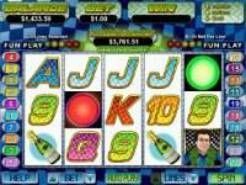 Current Jackpot
$3,328.80
Play Now
Stomp on the gas and head off around the track with Green Light slot game from RTG. As you've probably guessed, it's a racing theme slot that looks good and has a lot to offer. The game itself shows off a race car as well as a bunch of checkered card symbols. There's also green and red light symbols and a trophy for you to look out for while playing. The race-themed symbols offer the best bonuses and highest payouts, so it's good to look for them.
Placing Your Bet
Before you can begin racing toward a fat payout you have to select your total bet amount for each spin. You can risk between $.01 and $100 per spin so it's up to you to decide how much money you're willing to risk as you play the game. Bigger bets are generally rewarded with larger wins, but they also come with bigger losses so it's important to play at a level that matches your bankroll for best results.
Playing the Standard Game
There's nothing crazy about Green Light other than a pretty cool bonus race round. For the most part you'll spin the five reels hoping to get some of the car-themed items on the reels, because they pay the best. You'll pick up 1,000 coins for trophy or champagne symbols, you can get up to 5,000 coins for the car symbol, and the Green light symbol offers a special bonus round to let you win even more in prizes.
The Green Light Race
In racing green lights mean go, and that's exactly what three or more of the symbols mean in this slot as well. Get three of the Green Light bonus symbols and you'll enjoy a 200x bet multiplier and you'll unlock the racing bonus feature as well. When it starts you'll be tasked with choosing a single car to race with. The car will then compete in a race and the better your final place, the more free games you'll get. If your car manages first or second place you'll be entered into a second race with up to 100 free games on the line.

Once the race is over with you'll start all your free spins. Prizes paid out during free rounds are effectively doubled, giving you even more to cheer about as you play the game.

Green Light has a lot to offer for a slot game and it's a lot of fun to play. The special racing bonus game adds something extra that makes the slot interesting for repeat play throughs. Give it a try and you'll be hooked after your first play.