Goldbeard Slot Game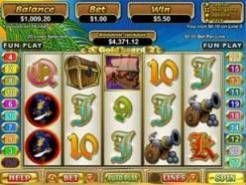 Current Jackpot
$2,751.31
Play Now
Stop playing standard slots and become an old-school pirate roaming the ocean and plundering for booty in Goldbeard. This fun slot game has you look for things to plunder, such as treasure chests and ships, and you'll receive different bonuses depending on the quality of symbol that appears on the game's five reels.
Look and Feel
Goldbeard Slot has an old-school pirate vibe to it with a sunny blue sky and palm tree in the background, and cannons, chests and other pirate symbols showing on the reels as you play the game. Other than the unique pirate symbols there is a selection of simple scrolled letters and numbers that are similar to what you would find in most other online slot games today.
Playing Goldbeard
Goldbeard is a 5-reel video slot game that offers pretty standard features that you would expect of a video slot today. The game has a total of 20 pay lines and before you start playing you'll have to decide on the amount of money that you want to bet. It's possible to bet as little as $.01, but much more significant bets can be made as well up to $5.00 per spin for more serious gamblers.

During the game you'll be looking for wild Goldbeard symbols that not only help you finish making prize combinations, but also unlock the free spin round. There are two wild locations available, and when both are filled at once you'll go straight to the free spin round.
Free Spin Round
If you manage to get the Goldbeard wild symbol on both reels 1 and 5 you'll unlock a free spin round that gives you even more chances to win the game. During this round all wins are multiplied by three, offering some pretty impressive prizes. During the free spin round you might also find pieces of eight that will offer additional bonuses of up to 100x your bet amount for a decent reward if you're lucky enough to get five at once.
Embrace the Random Jackpot
While playing Goldbeard I wanted very hard to understand the progressive jackpot, but had no luck figuring out what triggers it. The progressive jackpot that shows at the top of the screen will go off randomly and coujd leave you with a nice little added prize that you weren't counting on while playing.

Goldbeard is a fun pirate slot that's worth playing for any pirate fan out there that doesn't mind a nice straightforward gaming experience. It doesn't offer massive prizes, but is a medium variance slot so you'll win quite regularly as you play the game.