Big Shot Slots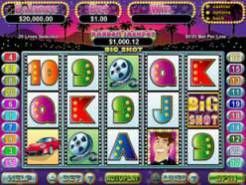 Current Jackpot
$1,066.01
Play Now
So you want to be a big shot? Well now's your chance with Big Shot slots . This modern-day video slot game is themed after a famous man with lots of money and fame. It shows off a brilliant glowing man that appears to be wealthy and handsome. There's beautiful women, movie production symbols, sports cars and more for symbols to look forward to.
Bet Like a Big Shot
The first step to becoming a big shot is betting like one. That's why you need to place a bet that's high enough to win big, but small enough for you to afford to wager again and again. There's a good betting range to work with in this slot game from a minimum of $.01 if you want to wager on a single payline with the lowest coin value, up to $100.00 with the maximum coin value and payline setup. You'll likely find a comfortable blend of these values somewhere in the middle of the two extremes, and that's where you can enjoy gambling for extended periods with Big Shot slots.
Big Time Scatters
Scatter symbols are highly valuable in this slot game because they pay out a multiple of your total bet rather than your coin value. With a total of five scatter symbols you can get as much as 100x your bet amount, or as much as $10,000 if you're betting the maximum amount in Big Shot. That's a solid start down the road to becoming a big shot with the money to show for it.
Exciting Random Jackpot
In Bog Shot one of the best ways to unlock a solid prize to get excited about is through the Random Jackpot feature. This progressive jackpot grows with every turn of the reels on this slot, and can get to several thousand dollars in no time at all. Each turn that you take with this video slot, there's a small chance that you'll trigger the progressive payout and end up with a good prize to enjoy. The progressive jackpot can climb over $25,000 and routinely gets even larger than that, giving you some serious cash to look forward to!
Big Shot Free Spins
The Big Shot free spins round is the most lucrative feature of this slot game and has the opportunity to really make you into a wealthy man, or woman. Get the Big Shot logo on reels 1 and 5 and you'll launch into the special free spin round. During this round you'll get between 5 and 20 free spins, but that's not the special feature of this game mode. The exciting feature is the ever-increasing multiplier. On your first spin it sits at 1x, but it continues climbing with every turn all the way up to 20x. At its peak you could win as much as $250,000 with a top bet and the top fixed jackpot all in one. That's enough money to get anyone talking and it's the highlight of Big Shot slots. Becoming a Big Shot doesn't have to be as hard as you think with Big Shot slots, but winning big doesn't happen for everyone either. If you want to take your shot and enjoy a quality slot game in the process, try out Big Shot slots.